Ji-Dong Gu's Research Group at GTIIT published a review article on "Microbial deterioration and sustainable conservation of stone monuments and buildings" in 《Nature Sustainability》(IF:12.08) in September 2020. The corresponding author of this article is J.-D. Gu of GTIIT and the first author is Dr. Xiaobo Liu who was a PhD student at The University of Hong Kong and graduated in August 2020 before joining GTIIT in October. In addition, co-authors on this publication include Prof. Yoko Katayama (formerly Tokyo University of Agriculture and Technology, now Tokyo National Research Institute for Cultural Properties), Dr. Thomas Warscheid of LBW Bioconsult in Germany and Dr. Robert Koestler, Director of Smithsonian Institution Center of Conservation).
This article is a summary of over 15 years of an on-going research collaboration between Gu's Research Group and Prof. Katayama's working together on understanding microbial colonization, composition and biochemical active and destructive contributions to the sandstone monuments under tropical climate of high heat and humidity favorable to a wide range of microorganisms to thrive. Together with publications elsewhere on stone monuments and historic buildings, this article delineates the methodology, analytical techniques available, and processes of microbial deterioration of stone monuments involved in a series of physical, chemical and biological reactions. Among them, hydrological cycle, biofilm formation on surfaces (Fig. 1) and the biochemical processes of carbon, nitrogen and sulfur cycles are major contributors to the destruction of sandstone physical structure and finally collapse of the monument structure. The overall information is invaluable to the policy on scientific and sustainable management of cultural heritage of the world into the future to protect human civilization from destruction.
Figure 1. Photographs showing Angkor Wat (a, f, g), South Gate of Angkor Thom (b, d, e), and Preah Vihear temple and microbial colonization and different colors (c) and the deterioration and destruction

The history of human civilization includes utilization and invention of different materials at various stage of society development, and these materials also serve a range of purposes in recording the history of society and technological capability for future generations. Stone was used to produce weapons and daily working tools as well as art. UNESCO had officially 845 sites of World Cultural Heritage (https://whc.unesco.org/en/list/) registered in 2019. Because of global climate change, anthropogenic activity, local condition and geography, many of these sites are suffering from irreversible deterioration and destruction from natural, biological and human causes to result in the permanent disappearance of selective of them. The negative effects on these sites can be seen today at Yungang Grottoes, Datong Grottoes and Dunhuang grottoes in China, and also Angkor monuments in Cambodia and Southeast Asian countries. Generally speaking, sandstone and stone can be easily colonized by natural microflora to form microbial biofilms quickly under different climate conditions and at any locations, and the microorganisms develop on surfaces by phototrophic, chemotrophic and/or organotrophic life styles to make a living and interact with the local conditions and availability of the energy and carbon sources. Majority of them are involved inmetabolism of carbon, nitrogen and sulfur to thrive on the inorganic stone and they can also utilize the anthropogenic pollutants deposited to support their growth and release inorganic and organic acids to dissolve the chemical structure of the stone and support the microorganism with supplies of minerals. This article stars with biofilm formation on different types of stone, physical and chemical properties of them, human activities, air pollution and microbial element cycles of carbon, nitrogen and sulfur mainly to reveal the fundamental biochemical processes and mechanisms that are important to the destruction of sandstone and stone, so that protection policy can be drafted based on them in the long-term.
Prof. Gu of GTIIT and Prof. Yoko Katayama of Tokyo National Research Institute for Cultural Properties have been collaborate on this research initiative for the past more than 15 years with non-stop annual visiting (except this year 2020) to investigate the various aspects of cultural heritage microbiology (Figure 2). They initially tested the sampling methods that can minimize physical contact or alteration of the surface materials, reported the microbial community and composition using the newly available Next-generation Sequencing (NGS) technology for metagenomics and also metatranscriptomics analyses, quantified the nitrogen transformation reactions which resulted in an accumulation of nitrate by ammonia-oxidizing archaea and bacteria, and verified the this phenomenon with application of nitrogen-15 stable isotope labeling technique to track the biochemical reactions, and proposed a new research framework for microbiology of cultural heritage and protection. Their collaboration has resulted in a publication of more than 20 SCI papers, recognization by the scientific community and peers, and further wider collaborations with colleagues in Europe, e.g., Italy, Germany and France, and frequent invitations to deliver invited talks at international conferences and contributions to review article and book chapters.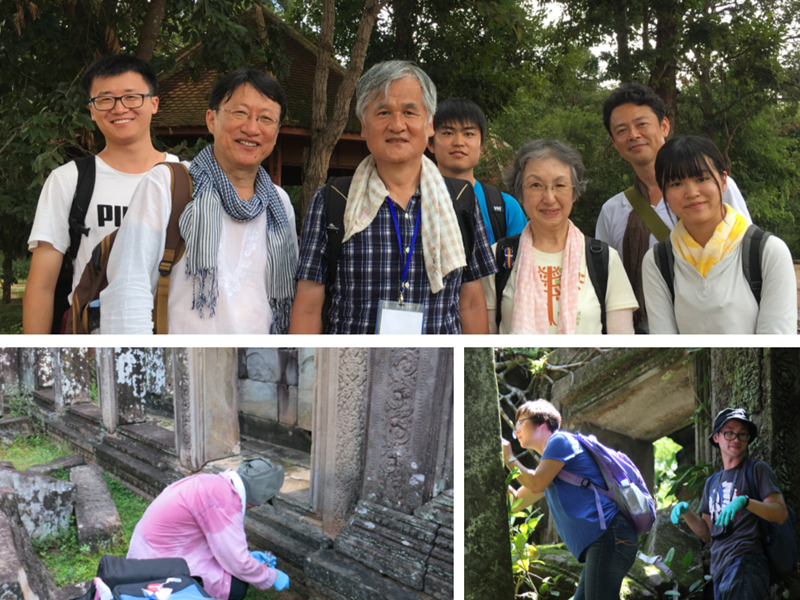 Figure 2. A group photo after completing the 2019 annual sampling and survey at Sambor Prei Kuk in Cambodia, and shots of sampling at Preah Vihear and Beng Mealea temples
Link: https://www.nature.com/articles/s41893-020-00602-5
Liu, X., R. Koestler, T. Warscheid, Y. Katayama, and J.-D. Gu (2020) Microbial deterioration and sustainable conservation of stone monuments and buildings. Nature Sustainability 3: 991–1004. DOI:10.1038/s41893-020-00602-5
Note: Figure1 in this paper is a picture available for public use, the author owns the copyright of the other pictures.
Text/Photos: Provided by Ji-Dong Gu