A batch of medical supplies, including 150,000 medical disposable masks, 9,000 disposable gloves, and 600 protective glasses, arrived at the Consulate General of Israel in Guangzhou on the morning of April 13. The medical equipment, donated by GTIIT teachers, students and their parents, will be designated to Technion soon as support for protecting against the coronavirus outbreak.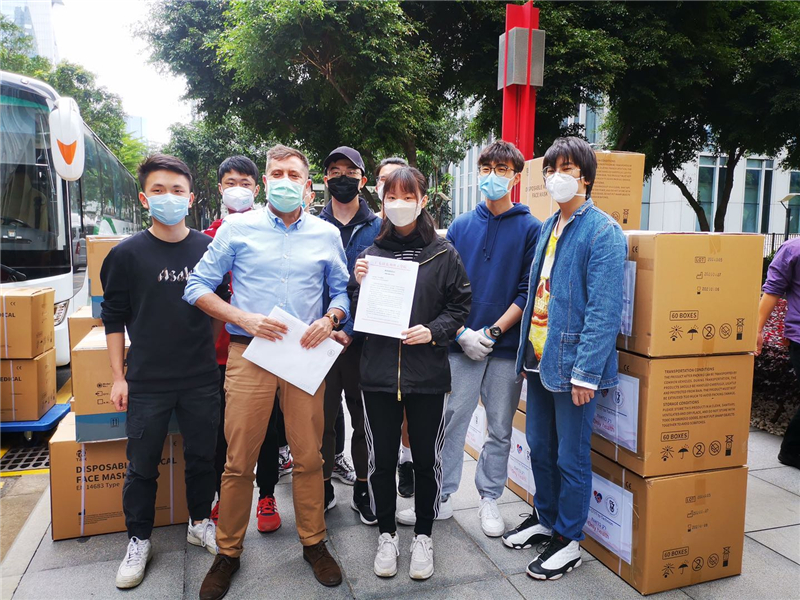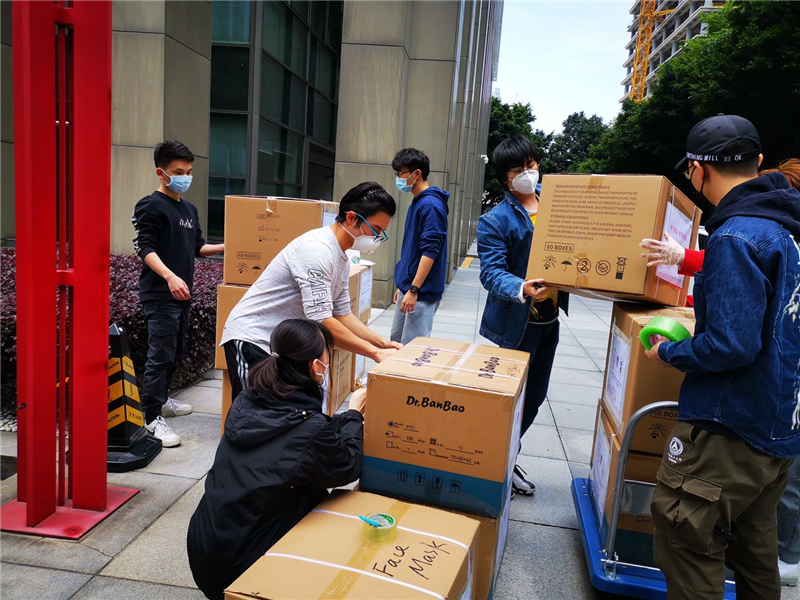 Yu Bowen, a sophomore of GTIIT posted a message on the Internet in mid-February that Wuhan No.3 Hospital, the place that his mother works for, had a shortage of medical protective equipment. A campaign to raise money for the Hospital was launched quickly among the GTIIT faculty and staff who are currently in Israel and within hours, 4600 USD were collected. A batch of medical supplies, including protective gear, face masks, medical gloves, and wipes, sent from Israel arrived at Wuhan No.3 Hospital with the concerted efforts of GTIITers.
"We were deeply touched and encouraged by this. The epidemic is now spreading around the world and our hearts are always with our teachers and friends abroad."
Students have shown concern about their teachers' recent situation through email and WeChat since the outbreak of the coronavirus. After knowing about the severe epidemic spread and a lack of medical supplies in Israel, they quickly established a temporary working group and launched a donation drive. "Technion and GTIIT share the same destiny. Our teachers rallied to help us in our time of need and it's time for us to lend a hand to them."
The initiative got enthusiastic responses from students and parents. Some donated their scholarships and others donated pocket money. More than 360,000 RMB was raised within a few days. Yu Bowen's mother also contributed to the total donations actively to express her gratitude.

The group members divided their duties: some collected and collated donations; some identified and confirmed required equipment; some contacted with medical suppliers and logistics providers. At the same time, GTIITers in Shantou harnessed the energies of all stakeholders to ensure the success of this process. GTIIT students' parents found two large Shantou-based medical equipment companies eventually. "Thanks to the wonderful firms: Guangdong Taienkang Pharmaceutical andBanBao, we managed to purchase the required equipment. After knowing that we are GTIIT students' parents and aim at assisting the Technion, they arranged priority shipment immediately for us. Good job!"
The medical supplies, together with the love of the Chinese people, will be sent to our Israeli friends.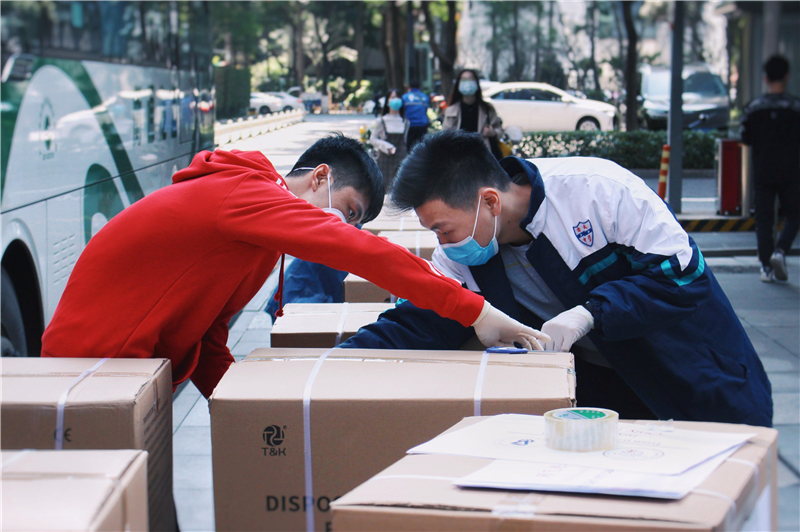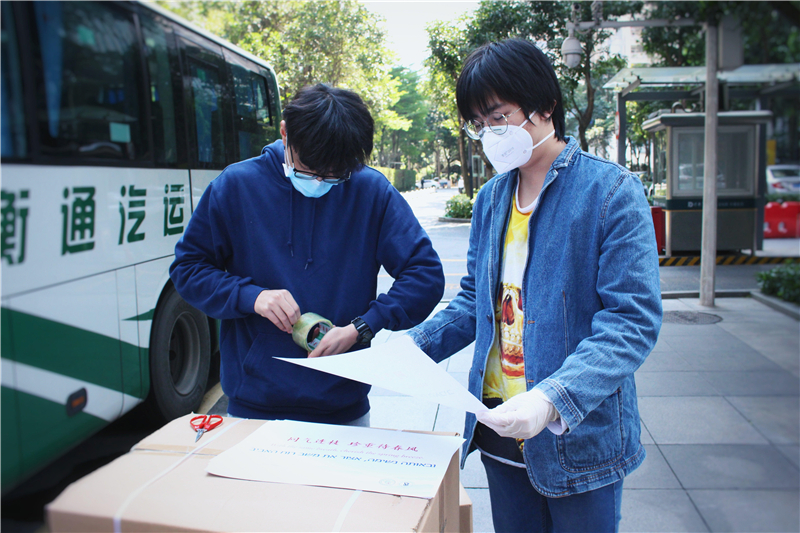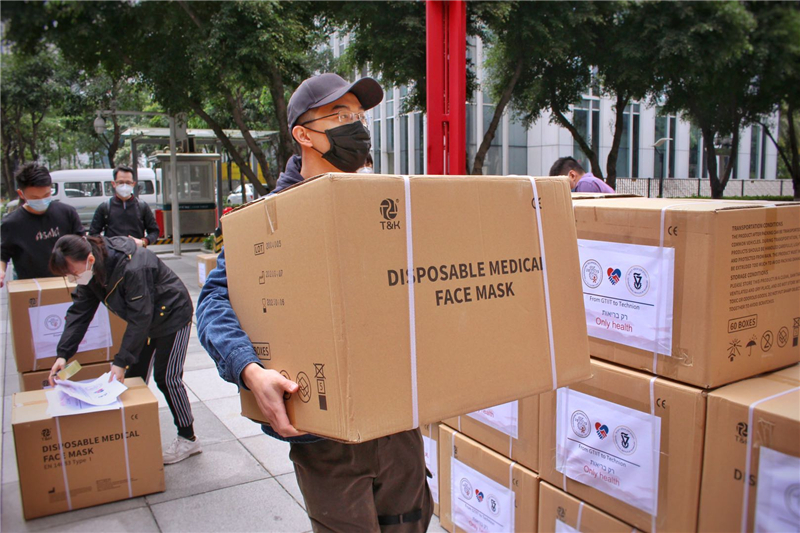 Nine GTIIT student volunteers from Zhuhai, and Guangzhou Zengcheng, Baiyun, Panyu, Haizhu, Liwan, Yuexiu, and Tianhe districts arrived at the Consulate General of Israel in China on the morning of April 13. They uploaded equipment, cooperated with product detection, labeled the boxes, handed over documents and carried supplies. The boxes equipped with medical supplies are affixed with best wishes "with the same breath, cherish the spring breeze" and "Only Health" written in Hebrew, Chinese and English.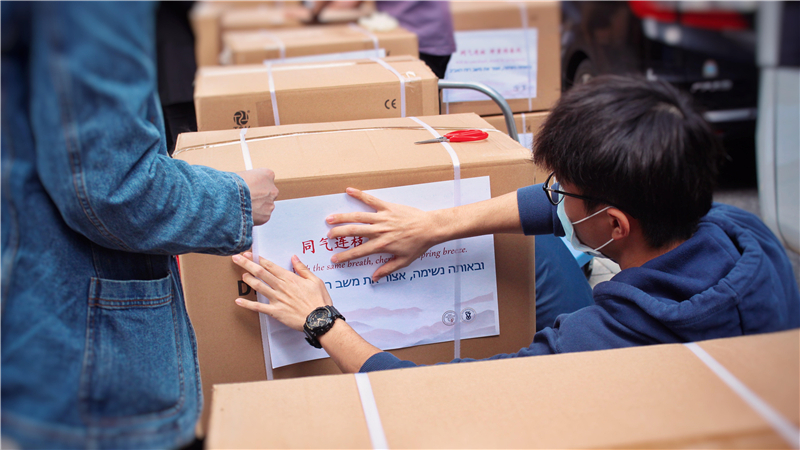 Mr. Peleg Lewi, Consul General of Israel in Guangzhou came to the handover site to visit the students and learned about their current situation. "The donation from parents and students deeply moved me and I am very touched. Thank you very much for the affection of parents and students." He mentioned that although Israel is a strong country, the support and encouragement from students are helping Israel to be more powerful in the fight against the epidemic. "Our friendship has further deepened through this support."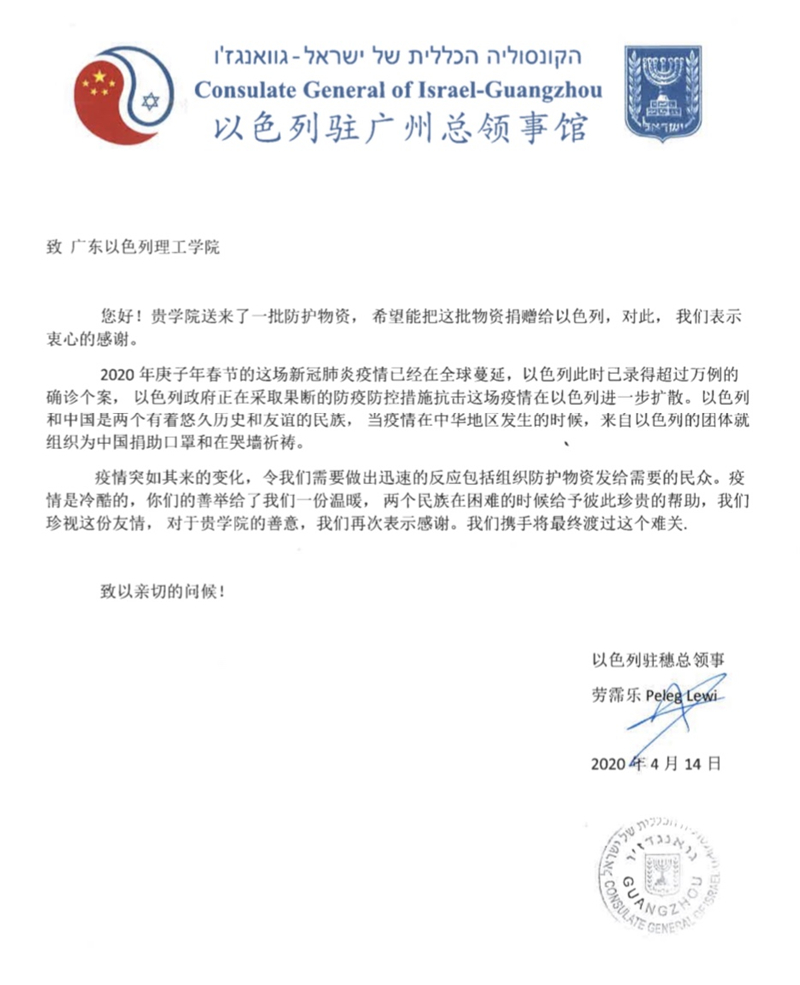 The first donation started 3 weeks ago
Although there are only a few faculty and staff at the GTIIT campus, they take active actions to help colleagues in Israel. "One of our professors' family has only one mask left and can't go outside." Knowing that their colleagues in Israel were faced with severe epidemic plague after a video call, they donated some money and sent the first batch of N95 masks and disposable medical masks to Israel three weeks ago. "The logistics is slow due to the decrease in international flights. The medical supplies are still on their way to Israel and should arrive within a few days. We hope that the masks can meet the urgent needs of our teachers and postgraduate students who are currently in Israel."