Faculty Member
GTIIT strives to recruit outstanding faculty members globally according to the academic standards of Technion-Israel Institute of Technology and to create an academic team who received their Ph. D. from top universities aboard.

About 60% of faculty members at GTIIT are assigned directly from the Technion. Other faculty members are recruited by the Technion globally under the academic standards of the Technion in Haifa, who will also be registered as faculty in Technion and positioned at GTIIT.
Most of the faculty members hold Ph.D. and have served in teaching and research in universities/institutions. Foreign faculty members account for more than 90% of the faculty team. They are from Israel, United States, Canada, Australia, United Kingdom, Singopore, Netherlands, Germany, Finland, Denmark, Spain, etc. The ratio of students to faculty members is about 10:1.
Key Progress
Approved by Guangdong Government, GTIIT has been listed in the "Guangdong High Level University Development Program" after several rounds of strict selection by academic committees. GTIIT is the youngest one among 18 universities which are listed in the Program. Four disciplines, including Materials Science and Engineering, Food Engineering, Chemical Engineering, and Environmental Engineering are listed as key disciplines.
GTIIT has participated in the Guangdong Laboratory of Chemistry and Fine Chemical Engineering. This program is sponsored by Guangdong and Shantou governments. GTIIT research team was selected as the candidate core team.
Faculty Academic Achievement
Up to June 2020, GTIIT faculty members have already published more than 270 papers in peer reviews(85% recorded by SCIE/EI) and 7 books, and have received 37 grants and got 17 awards.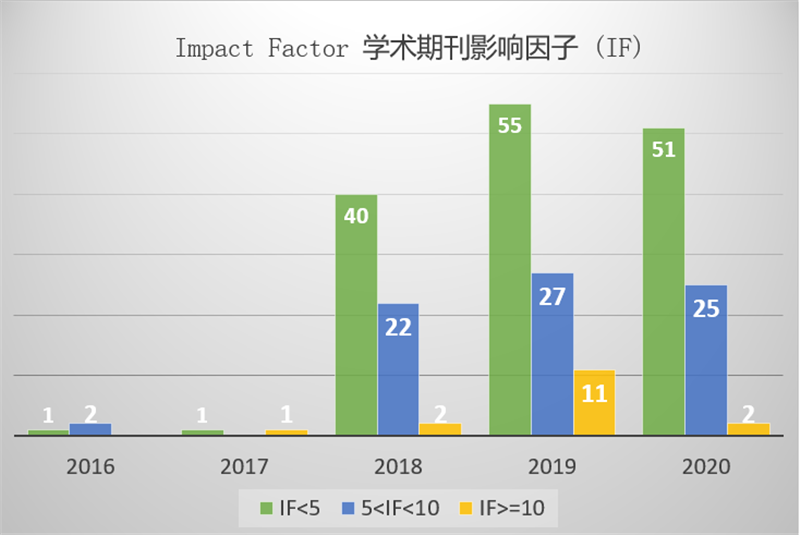 The above plot shows the trend concerning the number of research papers published by GTIIT faculty members since 2016. 73 and 107 papers were recorded in 2018 and 2019, respectively, and it is expected to have more than 150 papers published by the end of 2020. More than one third of the research papers published in international journals with an impact factor of greater than 5, indicating the quality of these papers.
Academic Events
GTIIT has already organized several master classes, inviting guests all over the world, such as Prof. Aharon Gedanken from Bar-Ilan University, Prof. Ram Reifen from the Hebrew University of Jerusalem, Prof. Yin Yadong from University of California, Riverside, Prof. Richard Siegel from Rensselaer Polytechnic University, Prof. Alejandro Marangoni from University of Guelpprog, to deliver wonderful speeches. Prof. Zhao Dongyuan from Fudan University, who is a member of the Chinese Academy of Sciences, has been appointed as Distinguished Visiting Professor of GTIIT.
Graduate Studies

As a research university, GTIIT provides you a unique opportunity to join the culturally diverse academic atmosphere. Now GTIIT have recruited 20 international talented graduate students, such as Sun Yet-sen University, CUHK, Technion. GTIIT is looking for enthusiastic, motivated candidates for our Graduate Studies.

For more information, please watch the video above.
Text/Photos: GTIIT News & Public Affairs