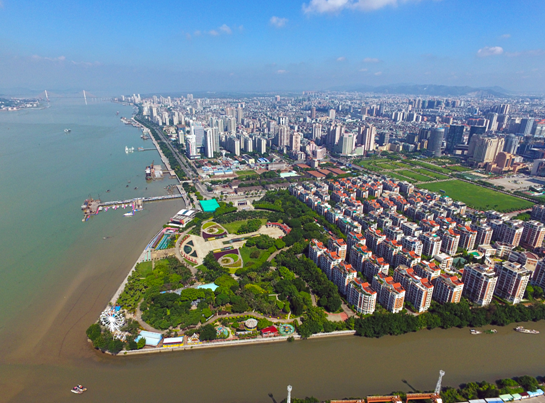 (Photo by Fang Ganming)
OVERVIEW
Shantou, a beautiful harbor city in Guangdong Province, China, is located in the southeast of East Asia and on the west shores of the Pacific Ocean. As one of the five Special Economic Zones of China, Shantou government has undertaken vigorous actions to improve the infrastructure of the city during the last 30 years.
Shantou is the famous hometown to overseas Chinese. More than 4 million people from Shantou living across over 40 regions and countries. The local dialect is Chaoshan dialect. Chaozhou opera, Gongfu Tea, Chaozhou music, Chaoshan cuisine are all Chaoshan specialties. Shantou is also renowned as the hometown of Chaoshan cuisine.
Chaoshan people are known for their talent in entrepreneurship. Famous Chaoshan entrepreneurs are around the globe, such as Li Ka-Shing, the president of Li Ka-Shing Foundation, Xie Guomin, President of Thailand Chia Tai Group and Pony Ma, the CEO of Tencent. Shantou is the perfect combination of profound traditional culture and modern business culture.
On December 16, 2015, the cities of Shantou and Haifa became sister cities.
By overcoming many challenges, Shantou is poised to become a new economic growth hub, benefiting from the opportunities that will flow from the collaboration with the Technion and from the establishment of a Sino-Israeli Innovation Industrial Park & Economic and Cultural Cooperation Experimental Zone for overseas Chinese.
Major industries in Shantou are plastics products, toys, textiles, printing, packaging, machinery (electrical and mechanical) and chemicals.Leading export products are electronic and mechanical goods, textiles, plastics and toys.
CLIMATE AND TOURIST ATTRACTIONS
Long coastal lines and a pleasant subtropical marine climate provide the city with many tourist attractions. These include the beautiful Sangpu hills surrounding STU and GTIIT, natural beaches and exquisite islands like Nan Ao, together with the marine scenery of the harbor. Some citizens take advantage of the rich seaside resources to operate resort areas that provide facilities and services for tourists.
In addition, the Tropic of Cancer traverses the south of the city, making it a place to enjoy the instant alternation of spring and summer in China. The city enjoys a pleasant subtropical marine climate, with mild winters and hot, humid summers.