This June, the first cohort students will graduate from Guangdong Technion - Israel Institute of Technology. The series of interviews with the graduates from Class 2021 will show their stories with GTIIT in the past four years. Here is the story about Yang Yifan, a student of Class 2021 from Chemical Engineering Program.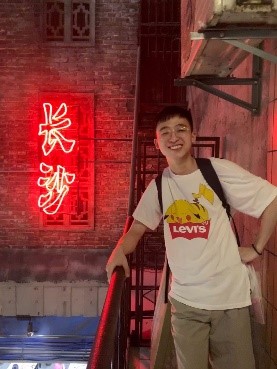 Name: Yang Yifan
High School: Xiehe High School, Guangzhou
Program: Chemical Engineering
As a well-rounded student, Yang Yifan broadens his horizon in the magical chemistry experiments, enjoys his spare time in various hobbies, and gain great achievements in all kinds of competitions. Here are stories about his fantastic university life at GTIIT.
Find my happiness in chemistry experiments
"I'm looking forward to growing up with a new university and I believe that a new Sino-foreign cooperative university will be full of opportunities and challenges. I enjoy learning new and interesting things and starting my wonderful university life at GTIIT." Said Yang Yifan.
Choosing GTIIT is an important decision for Yang Yifan to explore the world. From Shanxi to Guangzhou and then to Shantou, Yang Yifan has experienced the teaching styles of different places in China since he was young. When choosing a university, he preferred to experience the teaching characteristics of another country. "I've heard about that innovation and questioning are attached great importance in Israeli education, and the teaching methods at GTIIT are conducted in strict accordance with the requirements of the Technion, so I'm confident in the teaching quality at GTIIT. I'm also attracted by the amazing world-class laboratories and the high teacher-student ratio in this university." Yang Yifan firmly believes that he can make greater progress after studying at GTIIT and he did.
Before studying at GTIIT, Yang Yifan guessed that Chemical Engineering Program must involve complex elemental reactions, phenomena and mechanisms. After further study, he found that, in GTIIT, the core of this program is engineering. "The core theoretical basis of chemical engineering includes fluid mechanics, thermodynamics, even quantum mechanics and other disciplines closely related to nature. By cooperating with the needs of production, it has gradually developed a mature industrial theoretical system, such as chemical reactor design, process design and control, unit operations in industry, etc."
In his view, chemical engineering is related to turning the raw material into industrial production with commercial value, upgrading the chemical and physical processes from laboratories to large-scale production units, additionally taking into account the transfer of mass, energy and momentum during the upgrade process, calculating and giving the optimal production design solution, while considering the implementation cost, risk management and environmental impact. "Chemical engineering is necessary for a high standard of living. Its tools can be applied to a wide range of industries and can be changed with the theory evolves." Yang Yifan said.
"Organic chemistry experiment is a reward for me." Among the many interesting and practical courses in Chemical Engineering Program, Yang Yifan likes organic chemistry laboratory the best. "GTIIT's teaching laboratories are very well equipped. Each student can use a fume hood and various equipment independently in class. I really enjoy being in complete control of an experiment on my own. I can synthesize the target substance step by step from scratch. During the reaction, I could observe many phenomena that I had never seen before. Even though I had already known the changes in the color and state of the sample through the protocol before doing experiments, it was still quite surprising and interesting to witness all this with my eyes."
Yang Yifan had repeated the experiment three times but still could not get the desired crystallization in a lab. After asking the teaching assistant for help, a small iron spoon solved the problem, and also let him deepen the understanding of knowledge in practice. "The teaching assistant attaches a small iron spoon to the bottom of the cone, and the liquid becomes cloudy and crystallizes. Crystallization did not occur before because the erlenmeyer flask was so new and smooth that the product needed some edges to nucleate and crystallize. I only learn this principle in books, and can only memorize it after I do it."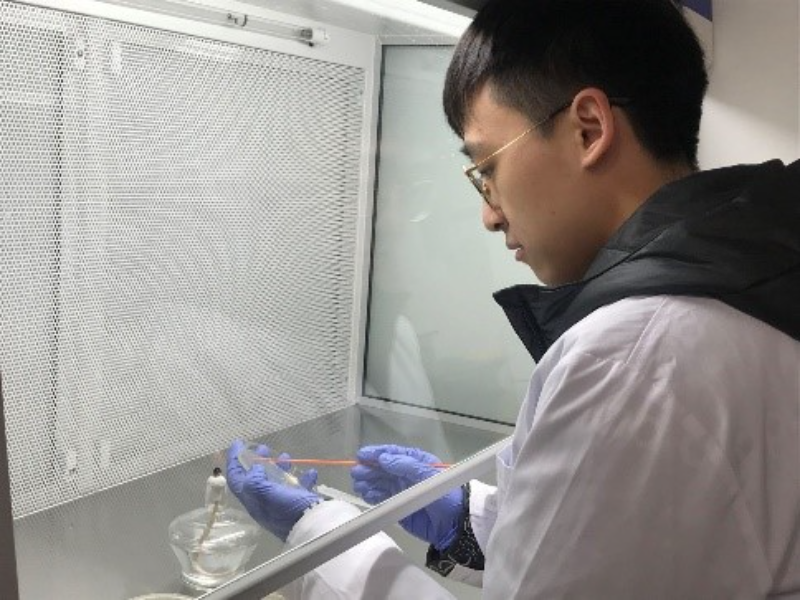 Research and hobby go hand in hand
In his junior year, Yang Yifan visited Prof. Varenyam Achal's lab in the course of "Bioprocesses in Environmental Engineering". He learned that professor's research was about the use of bacteria to fix heavy metals and make sustainable building materials. "For me, this kind of research that deals with real life is far more appealing than other projects, so I contacted the professor and joined the project in my senior year."
There were many unforgettable things in the project. "In the middle and late stages of the experiment, I need to continuously extract different forms of cadmium containing substances in the soil in the lab, including water-soluble, organic bonded, cadmium carbonate, soil residues and so on. The experiment process takes about 16 hours. This was the most tiring part of the experiment, which required repeated preparation of the solution, centrifugation, weighing, transferring the solution, and weighing again. The experiment also needs to use a lot of aqua regia, which is dangerous. Fortunately, the experiment result is ideal, and I also learned a lot of biological experiment skills - how to design and operate an experiment, how to use a variety of analytical instruments to test results...... I think it is of great help for my future academic research." This project also let Yang Yifan and his teammate won 15,000 yuan of funding from the 2021 Guangdong Provincial Climbing Plan Scientific Research Project.
Yang Yifan's university life is colorful with various extracurricular activities. He served as a student assistant in GTIIT's administration department, responsible for international faculty's daily living assistance and other affairs; playing badminton, table tennis, football and piano in his spare time; established GTIIT's football club, wrote publicity articles and designed posters himself; participated in the Hult Prize Greater Bay Area Innovation Challenge twice and entered the final in 2019; won the third prize of "FLTRP ETIC Cup National English Speaking Contest" in Guangdong Province in 2019...
"Tired but happy" as described by Yang Yifan. "My life is full of all kinds of things, but I enjoy such a fulfilling university life. I love the sense of achievement when the activities we planned were held successfully, and when I got good results in the competitions... All these brought me great satisfaction and motivation! Life in GTIIT may not be easy, but it can certainly be happy."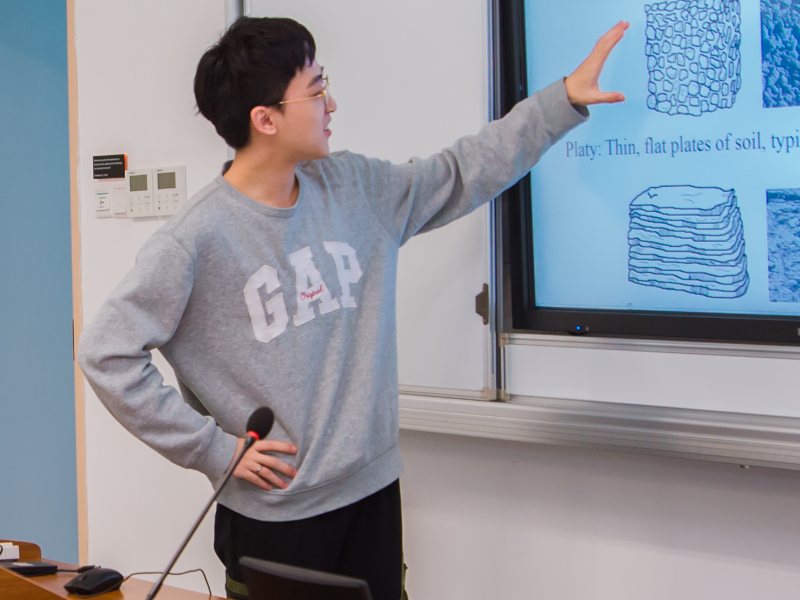 No gains without pains
To Yang Yifan, university life was full of joys and also hardships. He jokingly recalled that the first all-night study in life was for the theory of relativity. "I'm not that smart, and I need to spend a long time pondering over things I don't understand. If you often see a boy frowning at his computer in the library of Shantou University, chances are it's me. There was a night I didn't get full marks after using up all opportunities at a physics online assignment, so I stayed up all night studying the subject."
"Affected by the pandemic situation, some senior courses were postponed to the senior year, so I experienced a very hard semester together with most students of Chemical Engineering Program. Six mandatory courses, two experiments and a research project almost filled my daily life." Yang Yifan believes that there is no shortcut to learning. "I don't have any special way to deal with study pressure. I just use pressure to learn to be patient and dedicated. I think I will meet more pressure sooner or later. Just face it."
It is very lucky for Yang Yifan to meet so many professional and interesting teachers at GTIIT. "My teacher Prof. Moris S. Eisen likes to play with us after class, but he took our study problems very seriously. My teammates and I talked to him about the idea of a start-up competition. Discussing with him not only let us gain a lot of constructive opinions, but also let us better understand the current society's demand for technology. Another teacher, Prof. Israel Gutter, is always highly engaged and passionate in his lectures. At the beginning of his first tutorial class, he wanted to record the first execution of the MATLAB command in China. He asked us to help record the video of him pressing the enter key to leave this memorable moment. I sent him this kind of 'programmer romance' and he thanked me with great enthusiasm."
Yang Yifan is good at biology. When he was in high school, he was influenced by a science teacher who combined biology with water environment, which aroused his interest in studying ecology. "Now that I have learned about chemical engineering, it is possible to combine chemical engineering with ecology in the future." Therefore, after receiving offers from Wageningen University, The Hong Kong University of Science and Technology, The Hong Kong Polytechnic University and the University of Leeds, Yang Yifan decided to pursue a master's degree in environmental related programs at Wageningen University.
"GTIIT is a very young university. It can bring students not only a comfortable living environment and colorful university life, but also high-quality teaching and research resources." Yang Yifan hopes that juniors can cherish the learning atmosphere and strive to improve their academic performance. "Develop your own interests, explore new fields inside and outside class and set your goals, and gradually work towards them."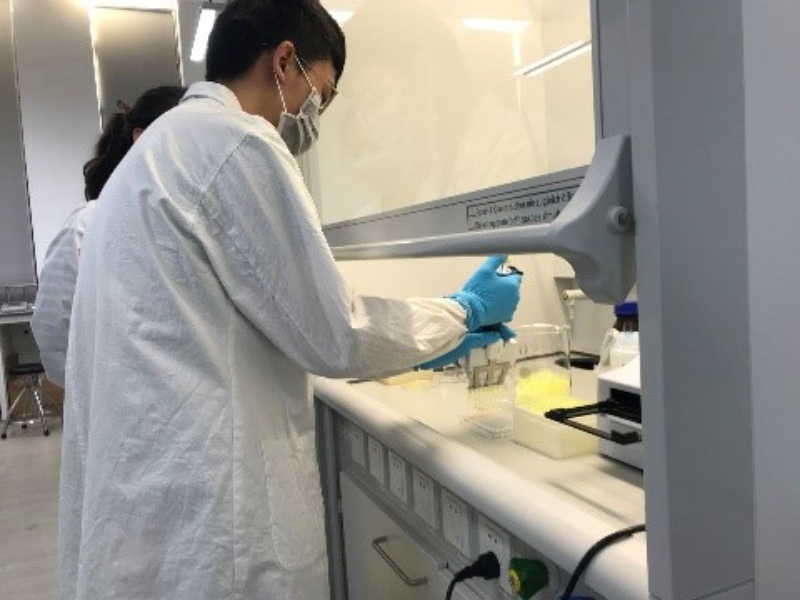 Text: GTIIT News & Public Affairs

Photos: Yang Yifan, GTIIT News & Public Affairs