Yesterday, the Guangdong Provincial Academic Degrees Committee issued a notice to approve Guangdong Technion-Israel Institute of Technology as a bachelor's degree-granting institution. The three programs of GTIIT, namely, Materials Science and Engineering, Chemical Engineering, and Biotechnology and Food Engineering, were approved as bachelor's degree-granting programs.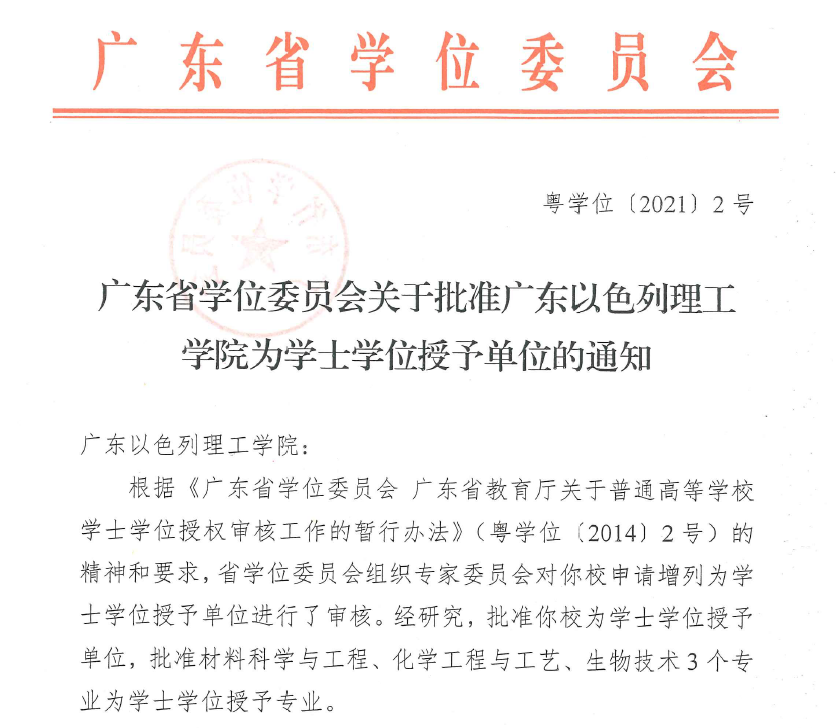 GTIIT will have the first cohort of graduates this year, all of whom come from the three programs mentioned above. The notice from the provincial authority means that GTIIT has passed successfully the evaluation of GTIIT as Bachelor Degree's Awarding University and can award Bachelor Degree to the graduates of the first three programs since this year.
In April 2021, an on-site review of application for bachelor degree authorization, organized by Academic Degree Committee of Guangdong Province was held at GTIIT. The experts evaluated GTIIT's overall education environment and program development. They were deeply impressed by GTIIT's uniqueness in teaching and learning, as well as the good spirituality showed by students and staff. The experts were satisfied with GTIIT's orientation and vision in cultivating talents. As the first university that has been introduced with high quality educational resources from Israel, GTIIT aims to become a world-class research university, conducting cutting-edge research in science and technology. GTIIT shows great potentials to promote the industry innovation and social economic development in East Guangdong Province, Guangdong-Hong Kong-Macao Greater Bay Area and even in China. The university shows a promising development trend and social influence and reputation.
Application for bachelor degree authorization is an important examination of education quality. It is the recognition of GTIIT's ability, as well as the quality of talent cultivation and achievement. GTIIT will take this as a new starting point for improving teaching and learning, cultivating and innovative talents, strengthening faculty team and research platforms, and enhancing the university's sustainable development capabilities.
Text/Photos: GTIIT News & Public Affairs