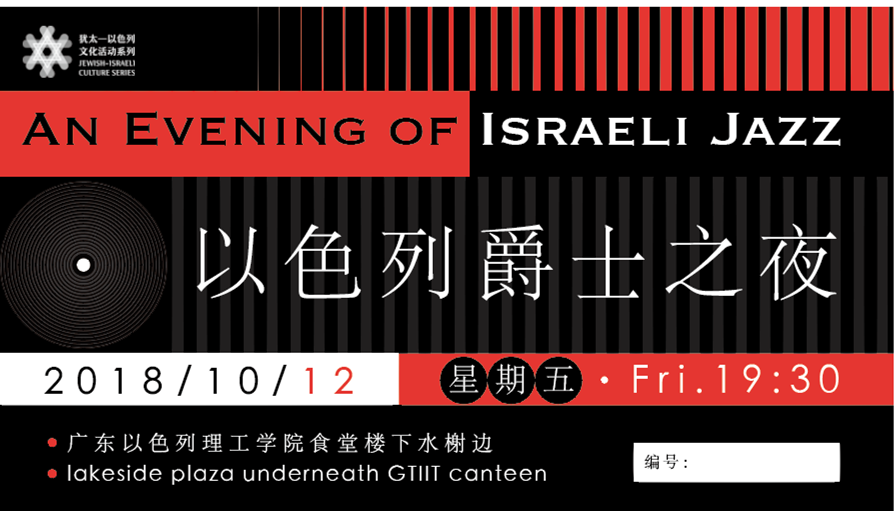 Time: 2018/10/12 Friday 19:30
Venue: Lakeside Plaza underneath GTIIT Canteen
Host: GTIIT, Consulate General of Israel in Guangzhou
Co- organizer: Center for Religious Culture Studies, College of Liberal Arts, STU
Support: Li Ka Shing Foundation
Introduction of the bands:

Alon Farber - Soprano Saxophone+Alto Saxophone

Hagai Amir - Alto Saxophone
Oded Meir - Trombone
Asaf Hakimi - Double Bass
Tomer Bar - Piano
Danni Benedikt - Drums
The "Hagiga" sextet was founded in Tel-Aviv 2001, by Alon Farber and Danni Benedikt, both Berklee College of Music alumni. Alon majored in Jazz composition and finished with excellence. In addition Alon is the winner of the Wayne Shorter award and the Israeli Prime Minister award for jazz composers (2016). Most of the players in the group studied and lived in the US (Boston and New York). They are all virtuoso players and take major part in the Israeli and international jazz scene.
"Hagiga" means "celebration" in Hebrew, and accordingly the Hagiga's performance is a feast to the ear. The show is based on spontaneous interaction between the players and produces a mesmerizing and profound experience for the listeners.
Hagiga's discography includes three CDs. "Exposure" (2005) and "Optimistic View" (2009) were released for the Spanish label "Fresh Sound" and received enthusiastic reviews from websites like Jazzreview.com, Allaboutjazz.com and Jazztimes.com. In 2016 "Hagiga" released Its 3rd CD "New Directions", featuring the Brazilian percussionist Joca Perpignan.
"Hagiga" participated in prestigious festivals, ,such as Copenhagen Jazz festival, Paris Jazz Festival, Red Sea Jazz Festivals, Tel-Aviv international Jazz festival, International show cases in Jerusalem, Jerusalem international Jazz festival and many more.
Hagiga's music fuses many genres and styles. You can hear the ensemble goes from energetic swing to Arab music, playfully jumps to Funk and then flows to a Latin groove. Nevertheless, "Hagiga" developed a very unique sound signature derived from the diverse and creative personalities of the band's musicians.
Throughout the years, they've collaborated in recordings and shows with such artists as Omri Mor, Avishai Cohen (trp), Anat Cohen, Eli Degibri, Omer Klein, Ofer Ganor, Amit Friedman, Amos Hoffman, Gadi Lehavi and more.
Yossi Fine - Guitar+Bass

Ben Aylon - Drums+Percussion
Lior Romano - Synth-Bass+Keyboards
Yossi Fine, Bass master producer, one of the most well known musicians and producers in the world today. Grammy nominated, Produced over 40 albums around the world, reaching 20 gold and multi-platinum albums. Yossi has produced, recorded and played with David Bowie, Lou Reed, Gil Evans Orchestra, Vieux Farka Toure and many more. Yossi plays bass and a special guitar he built, playing traditional songs and hits from the blue desert.
Ben Aylon is defined as a border-breaking drummer and percussionist, best known for his unique "Neo-African Drumming" style and cutting edge hybrid drumming techniques. Inspired by the deep Senegalese Wolof drumming, Ben creates explosive-burning rhythms with a sound of an entire tribe of drummers using African and modern drums. Ben Recorded and played with: Bombino, Doudou Ndiaye Rose, Awadi, Khaira Arby and many more.
Completing the band's sound is Lior Romano on Synth-Bass and Keyboards, known as the groove master behind Ester Rada and Karolina.