2021 DOF "Delivery of Functionality" is coming to the Far East for the first time! The symposium will be held between June 16-19, 2021. DOF 2021 is an interdisciplinary symposium about different research areas (food science and engineering, biophysics, applied soft matter, food technology, applied human nutrition) with a diverse plethora of participants (such as academia, industry and young researchers) from diverse places around the World. This year the DOF will have a special emphasis on sustainability, health, and personalized food systems.

The conference will be hosted in Guangzhou International Bio-Island from June 16th -18th. As a spinoff of DoF 2021, a seminar will be hosted in the GTIIT on June 19th, which welcomes you all. The conference will take place in a hybrid mode – on site in China and online as well.
The conference will invite researchers and professors from overseas and Chinese universities to give presentations in Shantou and Guangzhou. Furthermore, we will also encourage graduate students and post-doctoral fellows from other Chinese universities and GTIIT to participate in our poster and short talk sessions.
We are looking forward to seeing you at the DOF!
Co-hosted by
Delivery of Functionality in Complex Food Systems Scientific Committee
Guangdong Technion-Israel Institute of Technology
Guangzhou International Bio-Island
Shantou Hi-tech Industrial Development Zone
Guangdong Institute of Food Science and Technology

Scientific Committee members
Alejandro Marangoni - University of Guelph, Canada
António Vicente - Centre of Biological Engineering, University of Minho, Portugal
Erik van der Linden - Wageningen University, The Netherlands
Harjinder Singh - Riddet Institute, Massey University, New Zealand
Job Ubbink - California Polytechnic State University, USA
Julian McClements - University of Massachusetts-Amherst, USA
Mike Boland - Riddet Institute, Massey University, New Zealand
Monique Axelos - INRA/CEPIA, Nantes, France
Perla Relkin - AgroParisTech, France
Raffaele Mezzenga - ETH Zurich, Switzerland
Harold Corke - GTIIT, Shantou, China
Yoav Livney - Technion Israel Institute of Technology, Israel

Local organizing committee members
Yigal Achmon - conference chair - GTIIT, Shantou, China
Dganit Danino - Technion, Haifa, Israel; GTIIT, Shantou, China
Harold Corke - GTIIT, Shantou, China
Fang Zhong - Jiangnan University, Wuxi, China
Fidel Toldrá - Instituto de Agroquímica y Tecnología de Alimentos (CSIC), Spain
Yuan Li - China Agricultural University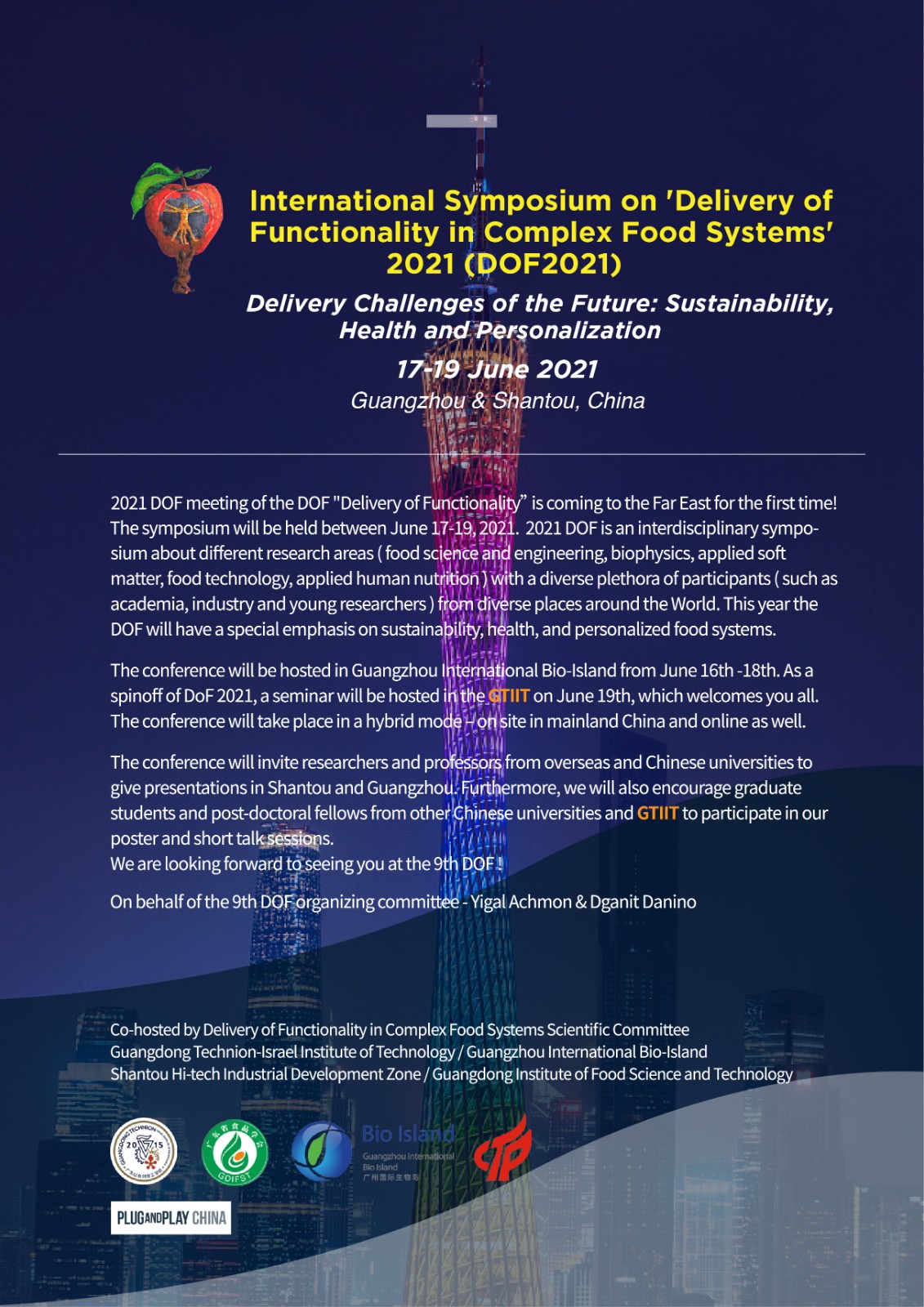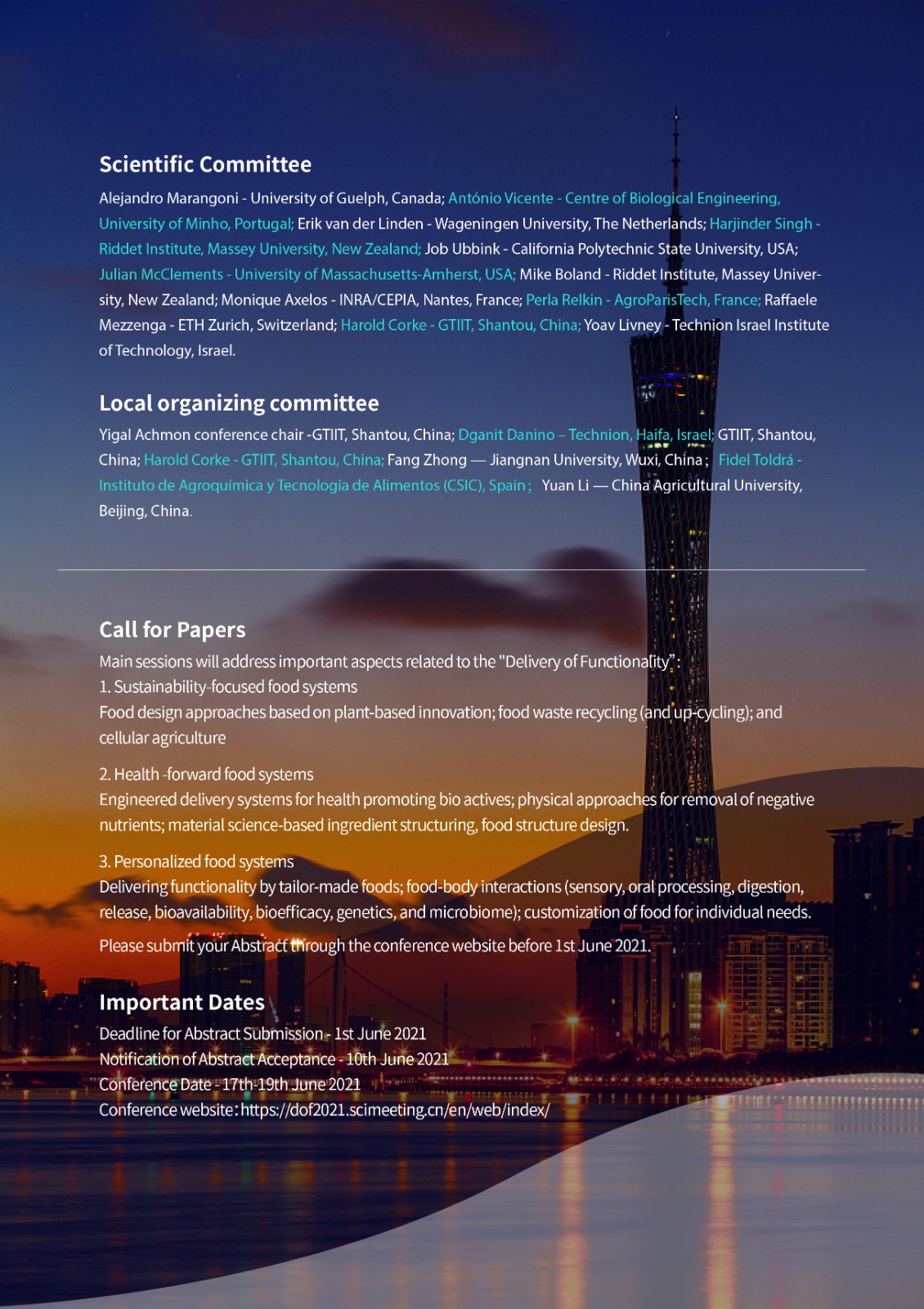 Call for Papers
Main sessions will address important aspects related to the "Delivery of Functionality":
Food design approaches based on plant-based innovation; food waste recycling (and up-cycling); and cellular agriculture
Engineered delivery systems for health promoting bio actives; physical approaches for removal of negative nutrients; material science-based ingredient structuring, food structure design.
Delivering functionality by tailor-made foods; food-body interactions (sensory, oral processing, digestion, release, bioavailability, bioefficacy, genetics, and microbiome); customization of food for individual needs
It is the last week for abstract submission. Please submit your Abstract through the conference website before 1st June 2021.
Important Dates
Deadline for Abstract Submission - 1st June 2021
Notification of Abstract Acceptance - 10th June 2021
Conference Date - 16th-19th June 2021
Conference website: https://dof2021.scimeeting.cn/en/web/index/
Related reading:

Conference | 首次在亚洲举办!第九届"复杂食品系统功能交付"国际研讨会来了

Text/Photos: RIGS, GTIIT News & Public Affairs