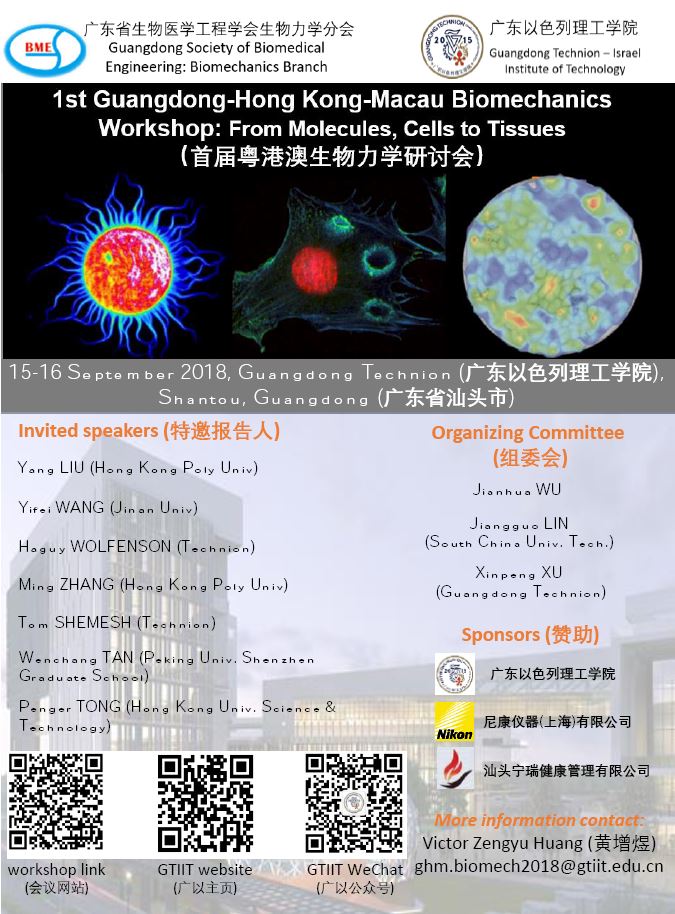 The 1st Guangdong-Hong Kong-Macau Biomechanics Workshop:
From Molecules, Cells to Tissues
is holding an interdisciplinary workshop on experimental measurements and theoretical modeling to further our understandings of various topics in biomechanics, focusing on the mechanical aspects of biological systems ranging from the inner workings of cells and their interactions with their microenvironment to the mechanical properties of tissues.
This workshop will be held from 15-16, September 2018 in Guangdong Technion-Israel Institute of Technology (GTIIT), Shantou city, Guangdong Province, China.
This workshop is the "1st annual meetings of biomechanics in the Guangdong-Hong Kong-Macau delta region", which are organized by the Biomechanics Branch of Guangdong Society of Biomedical Engineering. This workshop is intended to provide a platform for participants from different backgrounds (e.g., cell biology, biomechanics, biophysics, biomathematics, and medicine, etc) in the most developed delta region of China to exchange ideas, discuss the latest results and future directions.
We hope a close crosstalk between experimental measurements and theoretical modeling will further our understanding of multiscale biomechanics from molecules to tissues, from subcellular to multicellular.
Tying these scales together into a coherent picture is far from trivial. We hope these annual meetings can bridge and strengthen the academic exchanges and cooperation continuously in the field of multiscale biomechanics in the Guangdong-Hong Kong-Macau delta region. We particularly encourage the emerging generation of bright young scientists as well as medical doctors to participate.
Invited speakers (listed by the alphabetical order of family name)

Wenhua HUANG, Southern Medical Univercity
Shandong HUANG, 157 hospital

Zhanyi LIN, Guangdong general hospital
Yang LIU, Hong Kong Polytechnic University
Tom Shemesh, Technion-Israel Institute of Technology
Puyi SHENG, Sun Yat-sen Univ,1st hospital
Wenchang TAN, Peking University Shenzhen Graduate School
Bin TANG,Southern University of Science and technology
Penger TONG, Hong Kong University of Science and Technology
Haguy WOLFENSON, Technion-Israel Institute of Technology
Jianhua WU, South China University of Technology
Ming Zhang, Hong Kong Polytechnic University, Hong Kong
Information about the workshop
·Date:15th-16th September, 2018
·Place: Guangdong Technion Israel Institute of Technology (GTIIT)
·Organizer: Biomechanics Branch of Guangdong Society of Biomedical Engineering
·Schedule: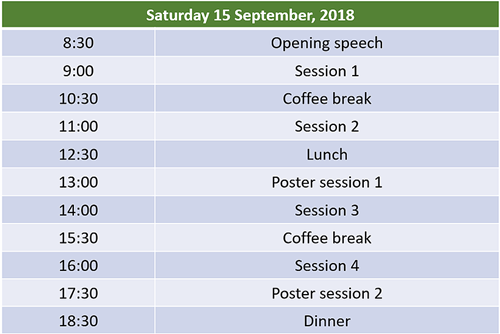 Contacts
·Local organizer: Prof. Xu Xinpeng
Phone: +86-(0)754-8807-7032
Email: xu.xinpeng@gtiit.edu.cn
·Dr. Zengyu (Victor) Huang
(Abstract submission, Specifically for oral presentation or poster!)
Email: huang.zengyu@gtiit.edu.cn
·Ms. Wei (Heather) LIU (General enquiries)
Email: liu.wei@gtiit.edu.cn
For more information, please get access to https://xuxinpeng.wixsite.com/ghm-biomech2018