A Sino-foreign cooperative university that transplants the innovative gene from a century-old Israeli university
Selected as the youngest university in the Guangdong Province's High-Level University Development Program
English as teaching language and graduate with 2 degrees
Top-standard faculties with world-class laboratories
A high-level research university in science and engineering is waiting for you to explore!
The Guangdong Technion-Israel Institute of Technology will hold the undergraduate open day on 16th June 2019. It is an ideal opportunity for prospective students and their parents to gain a real flavor of university life. The campus will be open to the public and different activities, including lectures, mini-classes, lab visits, dormitory visits, and other special events, will be available for visitors to participate on the open day.
Intangible cultural heritage exhibition and parade will start at 8:30 on June 16. (Parade route: from Gate No.1 to Innovation Center)
*Prior booking is not required but visitors are advised to follow the on-site instructions and arrangements.
Event Schedule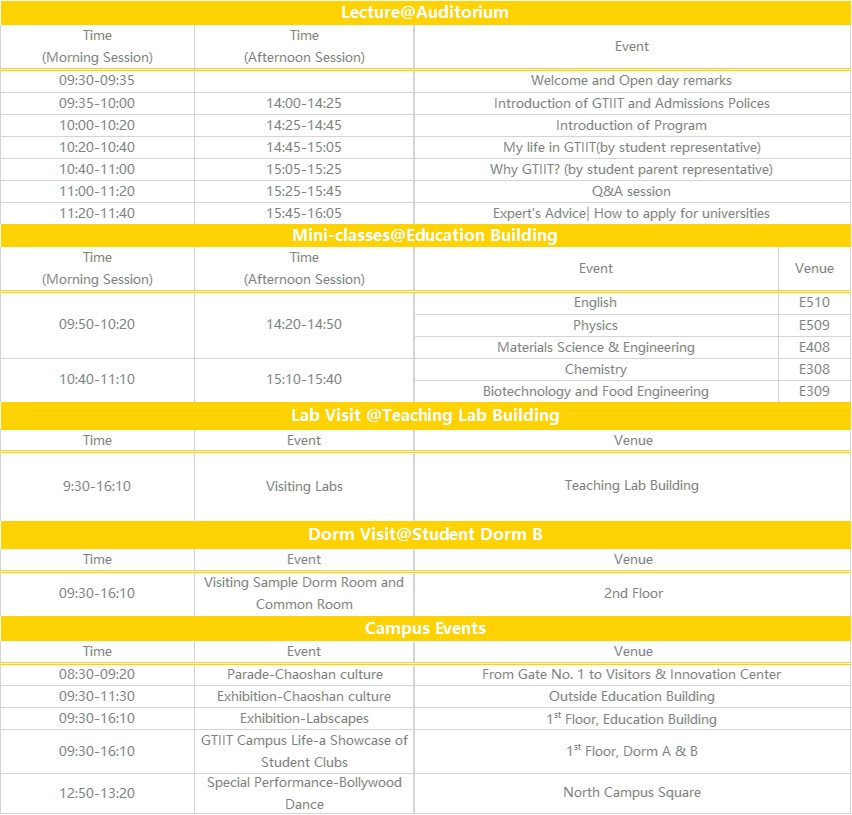 There will be morning session and afternoon session for both the lectures and the mini-classes. Both sessions have the same contents. Visitors are recommended to take part in one session only.

Please follow volunteers on site to the designated area toplace your personal belongs and put on lab coats before entering.